English / Deutsch
Die letzte der vier Headliner Clubshows für Alien Weaponry und zum zweiten Mal darf Buried in Smoke den Opener geben.
Der Bericht wird diesmal kürzer dafür mehr Bilder 😃
The last of the four headliner club shows for Alien Weaponry and for the second time Buried in Smoke is allowed to open.
 The report will be shorter this time but more pictures 😃
Buried in Smoke
Weniger Zuschauer und ein sehr heißer Abend machen es etwas schwerer für die Hanauer Buried in Smoke. Wobei der Kleine Klub seinem Namen ehre macht; deutlich kleiner als die Garage passt er aber perfekt zur Zuschauerzahl. Urlaubszeit und heißes Wetter reduzieren die Konzertgänger. Aber die, die gekommen sind wollen feiern.
Fewer spectators and a very hot evening make it a little harder for the Hanauer Buried in Smoke. Whereby the Kleine Klub lives up to its name; clearly smaller than the Garage it fits perfectly to the number of spectators. Holiday time and hot weather reduce the number of concert goers. But those who have come want to celebrate. 
Buried in Smoke erfüllen ihre Aufgabe als Anheizer auch diesmal sehr gut. Musikalisch wieder top und guter Sound sind die besten Voraussetzungen. Die Show ist besser abgestimmt und wirkt agiler. Der Lichtmischer mischt gutes Licht und nicht nur Dunkelheit also gute Voraussetzungen für Foto und Video 😃
Buried in Smoke are doing their job as heaters very well again this time. Musically again top and good sound are the best conditions. The show is better tuned and seems more agile. The light mixer mixes good light and not only darkness so good conditions for photo and video 😃
Alien Weaponry
Als Alien Weaponry die Bühne betreten hat sich der Kleine Klub in eine große Sauna verwandelt. Das ist aber kein Grund für die drei es ruhiger anzugehen. Von Anfang an wird Gas gegeben. Und woran man meiner Meinung nach eine wirklich gute Band erkennt ist, dass sie ihr Bestes geben unabhängig ob vor der Bühne 300, 3000 oder eben 150 Zuschauer stehen. Und dafür werden Alien Weaponry von ihren Fans auch gefeiert.
When Alien Weaponry entered the stage, the Kleine Klub turned into a large sauna. But that's no reason for the three to take it easier. Right from the start they go full throttle. And in my opinion you can tell  a really good band by the way they give their best whether there are 300, 3000 or 150 spectators in front of the stage. And for that Alien Weaponry are also cheered by their fans.
Das die Theke im Kleinen Klub eine verbotene Zone ist, wurde wohl vergessen Lewis zu sagen 🙄 Aber dem Fotografen gefällt's 📸🤘
That the counter in the Kleine Klub is a forbidden zone was probably forgotten to mention to Lewis🙄 But the photographer likes it 📸🤘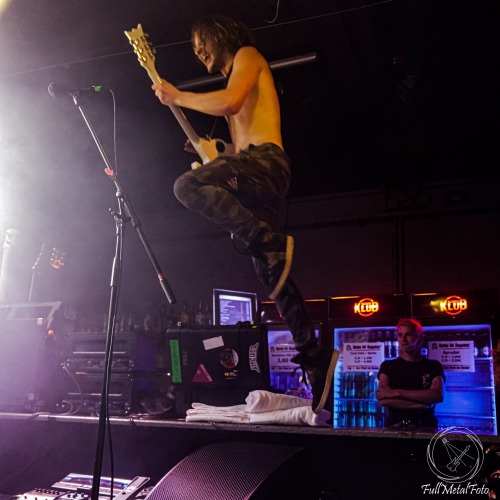 Nach dem Konzert nehmen sich die drei die Zeit um mit den Fans zu plauschen, Fotos zu machen und Autogramme zu verteilen. Diese Fan Nähe wird gerne gesehen 😃🤘
After the concert the three take the time to chat with the fans, take pictures and sign autographs. This fan closeness is appreciated 😃🤘
Cüs,
Stephan