English / German
Mein Bericht zu den beiden Cradle of Filth Clubkonzerte in Regensburg und Aschaffenburg.
My report on the two Cradle of Filth Club concerts in Regensburg and Aschaffenburg.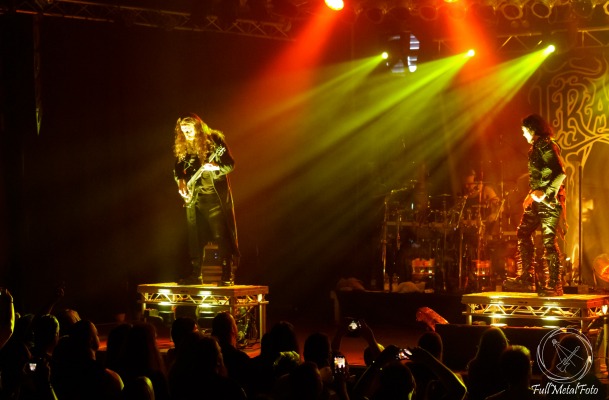 Eventhalle Airport
Beide Shows gehören zur Cryptoriana World Tour – Second coming of the Vice und laufen unter dem Title Summer Dying Fast. Leider war das erste Opfer das Frontlight dadurch ist die Bildauswahl leider etwas eingeschränkt 😒 Zumindest wenn man es mit den Cruelty and the Beast Shows vergleicht 🤘 Aber die Cruelty Shows gehörten vom Licht und den Motiven zu den besten, die ich bisher fotografiert habe.
Both shows are part of the Cryptoriana World Tour - Second coming of the Vice and run under the title Summer Dying Fast. Unfortunately the first victim was the front light so the selection of pictures is a bit limited 😒 At least if you compare it to the Cruelty and the Beast Shows 🤘 But the Cruelty Shows were among the best I've photographed so far regarding light and motives.
Die Setliste unterscheidet sich deutlich von der 2018 Cryptoriana Tour. Wobei vom aktuellen Album nur jeweils zwei oder drei Lieder sind und die Sets der einzelnen Konzerte sich auch unterscheiden. Ich finde es gut, gerade wenn man mehrere Konzerte einer Tour sieht.
The setlist differs significantly from the 2018 Cryptoriana tour. There are only two or three songs from the current album and the sets of the single concerts are different. I think it's good when you see several concerts on the same tour.
Musikalisch war der Abend, wie nicht anders erwartet, top. Sound, Songauswahl und Bühnenshow wie gewohnt spitze. Etwas kurz war der Abend, da es keine Vorband gab. Das wurde aber ausgeglichen durch ein Meet & Greet vor dem Konzert🤘 Das ist jedem Cradle Fan natürlich lieber als ein Support Act 😉😇
Musically the evening was, as expected, top. Sound, song selection and stage show were great as usual. The evening was a bit short as there was no supporting band. But that was compensated by a Meet & Greet before the concert 🤘 Of course every Cradle fan prefers this to a Support Act 😉😇
ColosSaal
Die Show im ColosSaal ist wiederum musikalisch und soundtechnisch super. Die Bühnenshow ist etwas schwieriger, da die Bühne deutlich kleiner ist. Dafür gibt es mehr Fannähe. Nochmal vielen Dank für die Autogramme 😃🤘
Trotz wieder wenig Frontlicht und noch mehr Nebel gab es einige gute Fotos. Diesmal ein paar dämonische Bilder von Richard. Wir haben ihn nach der Show noch getroffen, er hat sich noch viel Zeit genommen um mit Fans zu quatschen und Fotos zu machen😃 Dafür ist seine Pizza kalt geworden😱
Aber wenn ich die Bilder auf und abseits der Bühne sehe kommt mir immer der Gedanke "Richard & Hyde".
The show in the ColosSaal is again musically and sound-technically super. The stage show is a bit more difficult, because the stage is much smaller. But there is more closeness to the fans. 
 Thanks again for the autographs 😃🤘
 Despite again little front light and still more fog there were some good photos.  This time some demonic pictures of Richard. We met him after the show, he took a lot of time to chat with fans and take pictures 😃 But his pizza got cold 😱 
 But when I see the pictures on and off stage I always get the thought "Richard & Hyde".
Auch in Aschaffenburg traten Cradle of Filth ohne Support auf. Ich vermute, dass es einfach kaum möglich ist in der Festival Saison einen Support für "Zwischendurch" zu finden. Andererseits kenne ich lokale Bands, die geeignet wären und sich freuen würden wenn sie für Cradle of Filth den Opener geben dürften.
Also in Aschaffenburg Cradle of Filth performed without support. I guess that it's hardly possible to find support for "in-between" during the festival season. On the other hand I know local bands that would be suitable and would be happy if they could give the opener for Cradle of Filth.
Nach der Festivalsaison geht es für Cradle of Filth nach Down Under. Da wünsche ich der Band und den Fans viel Spaß.
After the festival season, Cradle of Filth is heading for Down Under. I wish the band and the fans a lot of fun.
Cüs,
Stephan